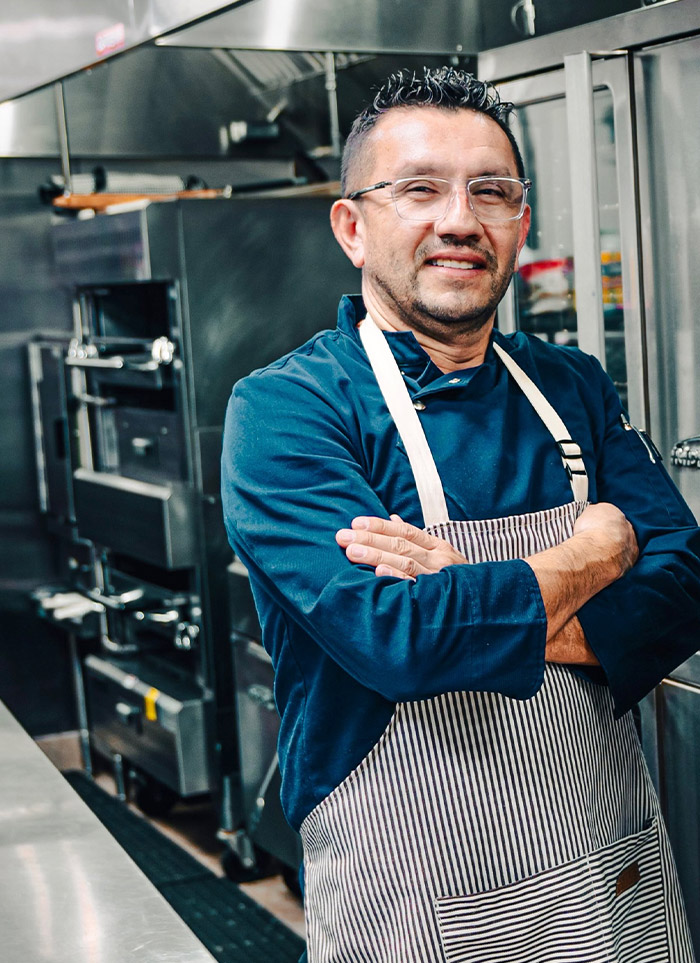 Chef Victor Duarte began his culinary journey twenty years ago in Queens, New York.
Originally from Bogota, Colombia, Chef Victor moved to New York City at age thirty to pursue his dream of a better life for his family. His interest in food service began at his first job as a pizza delivery man for a locally loved pizza parlor in Queens. Victor quickly ascended positions after showing great interest in the kitchen line. Specifically, Victor noticed the positive impact a delicious meal made in his community, and he wanted to be a part of that process. Victor used all of the resources in his community to learn more and practice his techniques. After seven years, Victor's goal was clear: he wanted to use his newfound passion to make an impact in the lives of others. He wanted to serve his community by providing authentic Italian flavors, and a personalized culinary experience to all celebrations. His vision was grandiose, and he needed the right soil to see it grow; so, he projected it over the sunshine state and moved to West Palm Beach, Florida in 2005.
Rollatini Italian Restaurant opened in 2006 in Wellington, Florida. Although the name was unknown, Victor had planted the Rollatini seed in the community dish by dish. Simultaneously, Victor was in the best culinary program he thought possible, the Cheesecake Factory. One year in the Cheesecake Factory's elite kitchen team served as one of the most influential times in Victor's life. The rapid, precise, and exceptional execution of hundreds of dishes per day in the Cheesecake Factory, set a new standard for Victor's vision for Rollatini. In 2007, Victor left the Cheesecake to fully dedicate his time and efforts towards carefully curating the blueprint of a unique Italian dining experience. He traveled to Italy for further research on authentic recipes, food and wine pairings, and unique spices. Since then, Rollatini Italian Restaurant has launched a unique catering service.
The Rollatini Catering team proudly offers a gourmet menu, exceptional staff, and a meaningful connection.
Chef Victor first meets with potential clients to learn their vision for their celebrations. Although Italian food is always a good idea, Chef Victor appreciates a diverse menu. In the past, he has collaborated with clients to create a customized menu that included Mexican, Greek, American Brunch, and other cuisines. At Rollatini, the client's satisfaction is measured beyond a food review. Every single detail of Rollatini's services is curated to highlight the client's happiness and celebration. Rollatini Catering is honored to contribute to the magic of an event.
Interested in a consultation?
We're happy to assist you and give you a free consultation. We want to hear all about your special event, and our packages will surely fit your celebration – guaranteed.
Contact Us